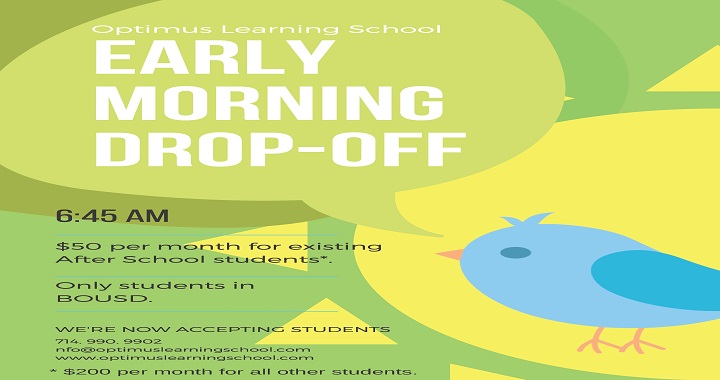 Early Morning Drop-Off Service
October 26, 2018
Over the years, many parents have asked if Optimus Learning School offers an early morning drop-off service. After considering the number of requests and our desire to help working parents, Optimus Learning School is happy to announce that beginning on Thursday, November 1st, we will be opening at 6:45 A.M. to offer the Early Morning Drop-Off service. Parents will be able to drop their children off, and we will provide the service of taking them to school for you. Before being dropped off at school, students can read, do supplemental math worksheets, or complete any work they need to finish.
As soon as we drop your child off at their school, you will be notified the same way as when your child is picked up after school: through the OLS APP. Parents who are already using the after school pick-up program, the cost will be $50 per month. Parents who only want to use the Early Morning Drop-Off Service the cost is $200 per month. At Optimus Learning School, we understand that mornings can sometimes be very hectic. We want to help our working parents by providing this service to ease the difficulties of getting your children to school on time. Remember the date for the beginning of the Early Morning Drop-Off Service, November 1st!!!!
Tagged:
At Optimus we strive to instill a balance between the values of discipline and critical thinking. We are dedicated to this philosophy because we believe that it will enable students to grow successfully as individuals and in their academic careers. Optimus Learning School offers an after school program in Brea such as math help and homework help. Optimus After School Program in Brea serves Brea, Fullerton, and Yorba Linda/Placentia areas. Optimus Learning School also offers SAT, ACT, PSAT, AP, IB programs in Brea. Our classes have a small ratio, with an average of 4-5 students per teacher. We offer such classes as AP Calculus, AP Physics, AP Chemistry, AP Computer Science and various other AP classes. Students can enroll in our daily tutoring service or our once a week classes. Optimus Learning School serves Brea, Fullerton, Yorba Linda, and Placentia areas.