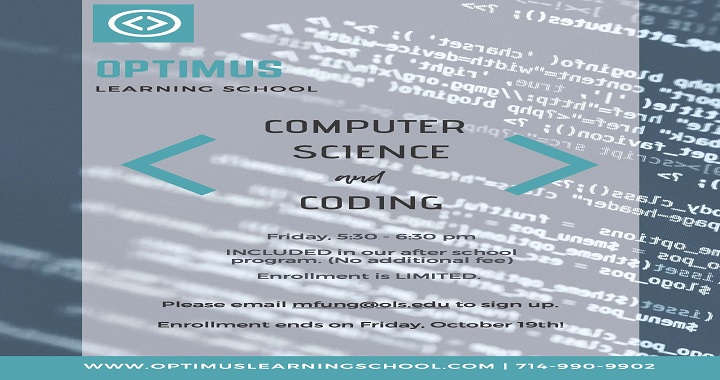 Elective Classes
October 30, 2018
Elective classes are individual classes based on the student's best interest. There are benefits of a student taking elective classes such as learning a new skill and having a sense of commitment to whatever they are involved in. Students who are engaged in extra classes are exposed to a wide range of new activities such as sports, second language, computer coding, and so on.
At Optimus, the elective classes we provide are dance, gymnastics, Chinese, Korean, and coding. The cost of these elective classes are included with the after school program tuition if the student is enrolled in the after school program. For dance we provided it twice a week: Tuesday and Thursdays at 5:30-6:30pm and for gymnastics it's also twice a week, but it is held on Wednesdays and Fridays at 5:30-6:30pm. For the Chinese class, it's on Thursdays 3:30-4:30pm and Fridays 5:30-6:30pm; For Korean class, it's on Fridays 3:30-5:30pm.
In addition, piano classes are provided twice a week for thirty minutes and there is no additional cost for the textbook. The tuition for the piano class is $120/month. There is a special discount, which is to get one month free when you pay for 11 months.
We provide these elective classes to our students because we believe in a balance of mind and body. The students who are involved in these elective classes can help them build confidence and it can also help them with time management at a young age. Although these classes may be hobbies, some students take them up and pursue them in their adult lives, turning their hobby into a career. These elective classes give the students the opportunity to grow and learn to see what they truly are passionate about.
Tagged:
Optimus Learning School is a tutoring center in Brea serving Fullerton, Placentia, and Yorba Linda. Since 2008, we have been helping students from kindergarten through high school achieve their academic goals through our various programs such as our home school, after school program, homework help, and private tutoring. We also offer seasonal programs such as our popular summer camp. There are many enrichment classes year-round, such as coding, STEM, piano, and art which will help shape creative and well-rounded students. Are you ready to kickstart your child's education? Send an inquiry form or contact us today!