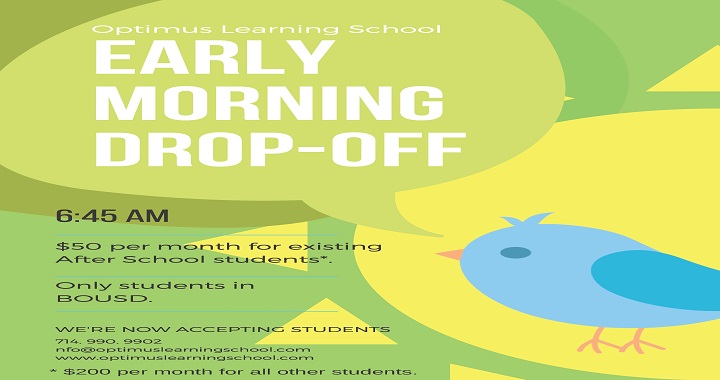 Early Morning Drop-off Service
November 2, 2018
Optimus Learning School now offers early morning drop-off to make your life easier and provide your kids with even more opportunities to thrive! Having to find someone to take your child to school or making a mad dash to work after the chaos of dropping your child off at school will be a thing of the past because you will now be able to drop your child off at Optimus as early as 6:45 A.M. Leave it up to us to make sure you child gets to school safely and on time. You can rest easy knowing that your child will be spending approximately 1-1.5 hours at Optimus before school working on homework, studying for tests, or doing enrichment activities (such as reading a book or building their math skills). Most important of all is the fact that your child will be under the supervision of an Optimus teacher that you know you can trust to make the morning run smoothly.
While local public schools offer an early drop-off program, they usually charge $10 per child per hour, which amounts to $200 per kid if you drop them off for just one hour each day of an approximately 20-day school month. However, at Optimus, you are charged one flat rate for drop-off as early as 6:45 A.M., no matter how much time there is between 6:45 and the start of your child's school day. For students already enrolled in our Afterschool program, that rate is $50 per child per month. Other students who are not enrolled in our afterschool program will pay $200 per child per month.
If you are interested in adding on the early morning drop-off service, give us a call!
Tagged:
Optimus Learning School is a tutoring center in Brea serving Fullerton, Placentia, and Yorba Linda. Since 2008, we have been helping students from kindergarten through high school achieve their academic goals through our various programs such as our home school, after school program, homework help, and private tutoring. We also offer seasonal programs such as our popular summer camp. There are many enrichment classes year-round, such as coding, STEM, piano, and art which will help shape creative and well-rounded students. Are you ready to kickstart your child's education? Send an inquiry form or contact us today!