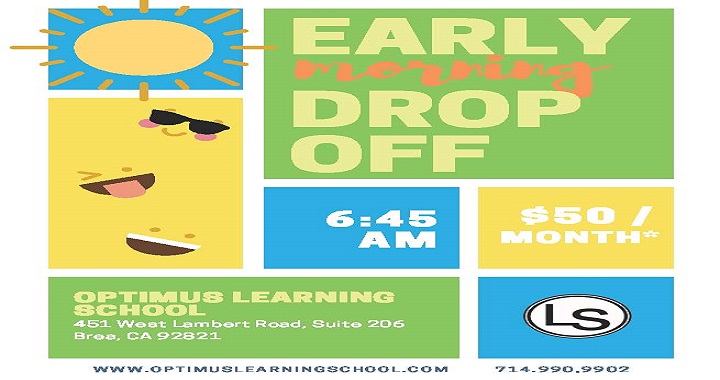 After School Program in Brea
Busy parents – Skip the line and save some time in the mornings with OLS
February 26, 2020
Mornings as a working parent are busy enough. From the hecticness of cooking breakfast and prepping lunches to making sure your kids are awake and dressed, there is hardly any time in the morning to worry about yourself (especially with the 10-20 minute long traffic buildup just to drop off your kids at school.) You can cut down your morning routine time, but there is no way to cut down that school drop off traffic. Luckily, Optimus Learning School is here to help!
Optimus Learning School understands the daily insanity parents must endure to get their kids to school on time on top of their busy schedules. That is why we offer early morning drop off services to not only current students enrolled in our educational programs, but also to children who are not OLS students for a low monthly price! Here's how it works. Parents skip the traffic and drop their children off in the mornings to OLS's Brea location at 451 W Lambert Road as early as 6:45am. While the children are at OLS, they will be staying productive by doing educational schoolwork on computers, reading, or doing homework until it is time to be dropped off at school. Once their children are dropped off, parents will receive a notification through the MyOLS app, which also includes the name of the driver and the time of drop off.
This process saves parents money for gas and gives them the reassurance that their kids are spending their time productively and will get to school on time, while not to mention saving parents tons of time in the mornings. Now you can have your coffee and drink it, too!
As mentioned earlier, this is a service offered to both OLS enrolled students and non-students. We charge OLS students $50 a month for this service, and non-students the bargain price of $100 a month. For working parents with students enrolled in our afterschool program, we also offer afterschool pickup service from each child's school to Optimus Learning School. This way, parents can stay at work in the afternoons while still ensuring their children are picked up, get their homework finished correctly, and are expanding their knowledge. Then, parents can pick up their children at their own convenience after work any time between 3:30 to 6:30pm. Our students' growth both academically and personally is our main concern, but we also strive to provide the best value for their parents and ease their minds knowing that with Optimus Learning School, they are under the best possible care. 
Tagged: After School Program in Brea
Optimus Learning School is a tutoring center in Brea serving Fullerton, Placentia, and Yorba Linda. Since 2008, we have been helping students from kindergarten through high school achieve their academic goals through our various programs such as our home school, after school program, homework help, and private tutoring. We also offer seasonal programs such as our popular summer camp. There are many enrichment classes year-round, such as coding, STEM, piano, and art which will help shape creative and well-rounded students. Are you ready to kickstart your child's education? Send an inquiry form or contact us today!