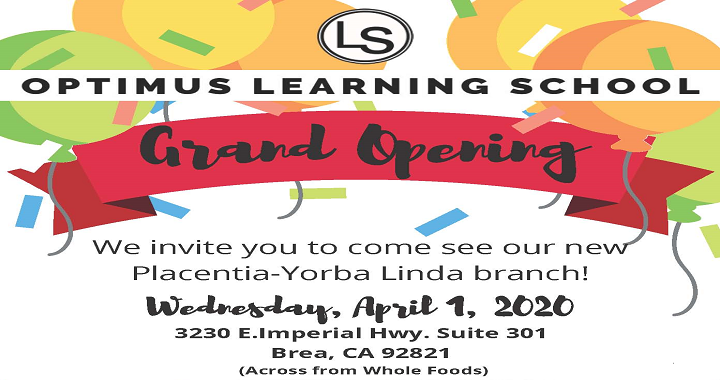 New Placentia-Yorba Linda Grand Opening Announcement and Specials
March 5, 2020
At Optimus Learning School, it is our mission to help our students be successful in every area of their lives. Since our establishment in 2008, we have led students to develop their discipline, critical thinking skills, and balance and now we are thrilled to announce the grand opening of our new Placentia-Yorba Linda branch! 
On April 1st, 2020, Optimus Learning School will open its new location in Placentia/Yorba Linda so we can continue our goal to help more students and parents in our area. To celebrate, we have exciting grand opening specials for both new students and current students!
Currently, we are offering a 10% discount on tuition for new, non-existing students who sign up for classes at our new branch. This offer is only for new students, not students transferring from our main branch in Brea. In addition, we are offering new students a 20% tuition discount for our summer program at our new Placentia-Yorba Linda branch. Enroll now, because these special deals end on March 31st!
For the first time since our opening in 2008, we also wanted to reward our students for their loyalty and trust in us by offering a limited-time new student referral program. If an existing student refers a new student to our new location in Placentia-Yorba Linda, we will take $100 off both the existing and the new student's tuitions! This program is only for a limited time and will end on March 31st, so help your students and others take advantage of this deal now at our new Placentia-Yorba Linda branch!
At Optimus Learning School, we believe in providing our students with the best quality services and attention.We are excited to be expanding these services for our community, and it is all thanks to our dedicated students, parents, and teachers. With their continued support, we will keep working toward helping our students achieve success in all areas of their lives and making the world a better place. 
Tagged:
At Optimus we strive to instill a balance between the values of discipline and critical thinking. We are dedicated to this philosophy because we believe that it will enable students to grow successfully as individuals and in their academic careers. Optimus Learning School offers an after school program in Brea such as math help and homework help. Optimus After School Program in Brea serves Brea, Fullerton, and Yorba Linda/Placentia areas. Optimus Learning School also offers SAT, ACT, PSAT, AP, IB programs in Brea. Our classes have a small ratio, with an average of 4-5 students per teacher. We offer such classes as AP Calculus, AP Physics, AP Chemistry, AP Computer Science and various other AP classes. Students can enroll in our daily tutoring service or our once a week classes. Optimus Learning School serves Brea, Fullerton, Yorba Linda, and Placentia areas.