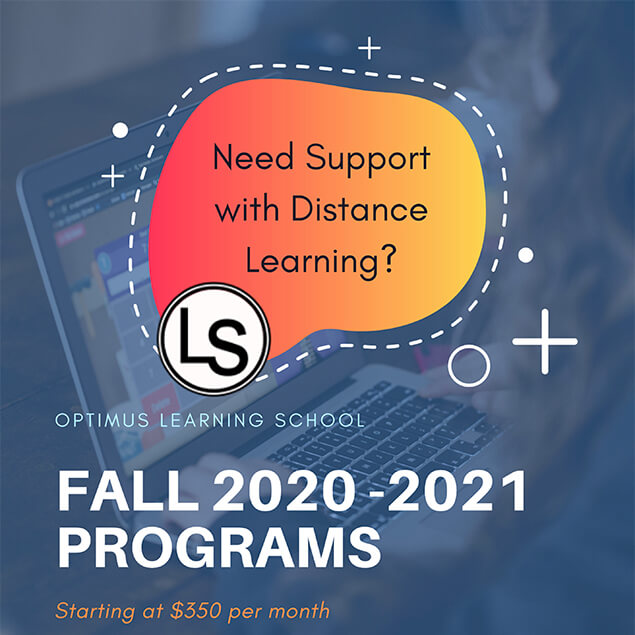 After School Program in Brea
Distance Learning Plan for PLYUDS Students
August 18, 2020
Optimus is here to support students with their distance learning! We have different schedules that will accommodate your student's education and minimize the loss of learning during this time.
Our Fall 2020-2021, Module I Schedule is perfect for those students who require:
support during their daily live instruction
help in understanding their daily lessons
reinforcement of their instruction
For details about our Fall 2020-2021 Programs, please visit our Fall Schedule page.
Students attending the PLYUDS are expected to participate in daily Zoom class meetings that are scheduled from 7:50 am to 1:10 pm. Our instructors will make sure that students are taking their allotted breaks and make sure that they are returning to class promptly. Additionally, our instructors will assist students with any questions during their live instruction, and help with technical issues or further clarification on daily instruction.
Additionally, students will be expected to utilize distance learning applications to continue practicing their lessons independently. Our instructors will ensure that students are engaging and using EduProtocols, Nearpod, and other such applications instructed by their teachers.
Furthermore, students will be given additional assignments and worksheets, which will reinforce what they are currently learning to ensure that your student thoroughly understands their lessons.
We at Optimus understand that each student learns differently, and we focus on providing all students with the foundation for their academic success!
If you would like to enroll in our Fall 2020-2021 program, please submit an inquiry form.
In the "What else would you like to know" section, please indicate:
Module (I, II, III, IV): Number of Days (1, 2, 3, 4, 5):
Dates of Attendance (Monday, Tuesday, Wednesday, Thursday, Friday):
Furthermore, if you would like information regarding the steps we are taking to promote the health and safety of our students and staff, please read our blog post about our new COVID-19 safety procedures. 
Tagged: After School Program in Brea
Optimus Learning School is a tutoring center in Brea serving Fullerton, Placentia, and Yorba Linda. Since 2008, we have been helping students from kindergarten through high school achieve their academic goals through our various programs such as our home school, after school program, homework help, and private tutoring. We also offer seasonal programs such as our popular summer camp. There are many enrichment classes year-round, such as coding, STEM, piano, and art which will help shape creative and well-rounded students. Are you ready to kickstart your child's education? Send an inquiry form or contact us today!