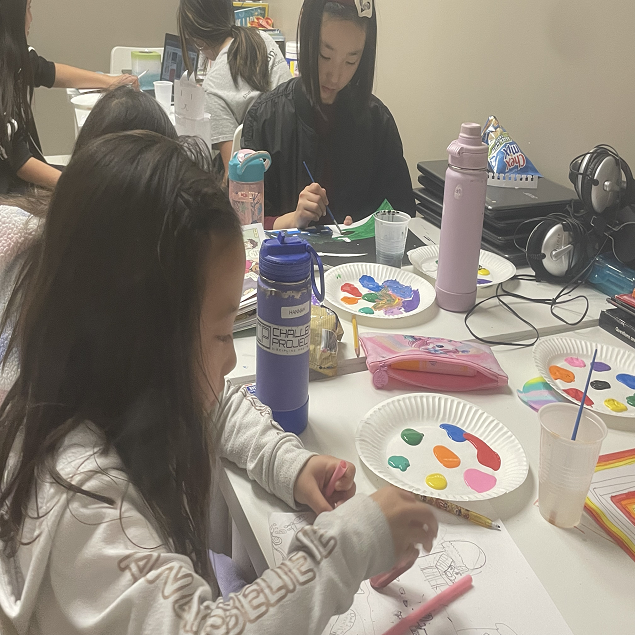 Art Class in Brea
Art Class in Fullerton
Art Class in Placentia
Art Class in Yorba Linda
Art Projects for Spring
March 28, 2023
Spring is finally here! To help celebrate the coming of spring with your kids, check out these three art projects based on the themes of spring and nature!  
Tissue Paper Flowers  
Materials  
-Tissue paper squares (Various Colors)
-Glue sticks
-Flower Template (They can draw a flower as well)
-Mixed Media Paper/Cardstock  
Directions 
1.   Have the kids use the flower template to draw or have them draw a flower that covers the entire surface of the mixed media paper or cardstock.
2.    Use the tissue paper like markers and glue them to the empty parts of the flower.   
Coffee Filter Butterflies  
Materials  
-Coffee Filters
-Washable Markers
-Chenille Stems (pipe cleaners)
-Pony Beads
-Zippered Bags – Gallon Size
-Spray Bottle filled with water 
Directions 
1.   Flatten out a coffee filter on top of a gallon size zippered bag. 
2.   Draw random designs on the coffee filter with a variety of colors.
3.   Mist coffee filter with water from a spray bottle and then let dry completely. 
4.   Set aside to dry but it's super fun to watch the colors mix and blend!
5.   Create two tie-dyed coffee filters for each butterfly. 
6.   Fan fold two coffee filters to create each butterfly.
7.   Stack fan folded coffee filters on top of each other.
8.   Fold chenille stem in half and place coffee filters one-third from base. 
9.   Twist the bottom loop of the chenille stem.
10. Twist once above the folded coffee filters, creating a tight section. 
11. Leave a ½" loop and twist again to create the butterfly head.
12. Leave the antennae straight.
13. Open and fluff out the wings of the butterfly. 
14. Pinch at the ends to retain the folds.
15. Thread a pony bead on the end of each antennae and curl into a swirl.  
Flower Garden 
Materials  
-Construction paper (Various Colors)
-Glue sticks
-Cardstock  
Directions  
1.   Have kids cut construction paper into the following shapes:
a.   Long, skinny rectangles (stems)
b.   Triangles (petals or leaves)
c.    Circles and ovals (petals)
d.   Leaf shapes (um, leaves)
2.   Have kids use the different shapes of construction paper to make flowers and stick them onto the cardstock.
3.   Repeat until they have a MASTERPIECE!  
Optimus Learning School provides the best after school program in the Orange County area. We also are enrolling for our summer program! For more information about our After School Program, please visit our website at OLS After School! For more information about our summer program, please visit our website at Summer Program!
Tagged: Art Class in Brea, Art Class in Fullerton, Art Class in Placentia, Art Class in Yorba Linda
Optimus Learning School is a tutoring center in Brea serving Fullerton, Placentia, and Yorba Linda. Since 2008, we have been helping students from kindergarten through high school achieve their academic goals through our various programs such as our home school, after school program, homework help, and private tutoring. We also offer seasonal programs such as our popular summer camp. There are many enrichment classes year-round, such as coding, STEM, piano, and art which will help shape creative and well-rounded students. Are you ready to kickstart your child's education? Send an inquiry form or contact us today!